Welcome to Donaghy Bros Product Support
---
Is your Product Faulty?
First check your manual for troubleshooting tips.
If this doesn't fix the problem, find expert support and advice from the product manufacturer below.
Remember to have your model number, serial number and proof of purchase, ready as this will also help you check if you're within the manufacturer's guarantee period for any repairs.
Got a Faulty or Damaged Products, check our infographics below to help with how to check what to do.
---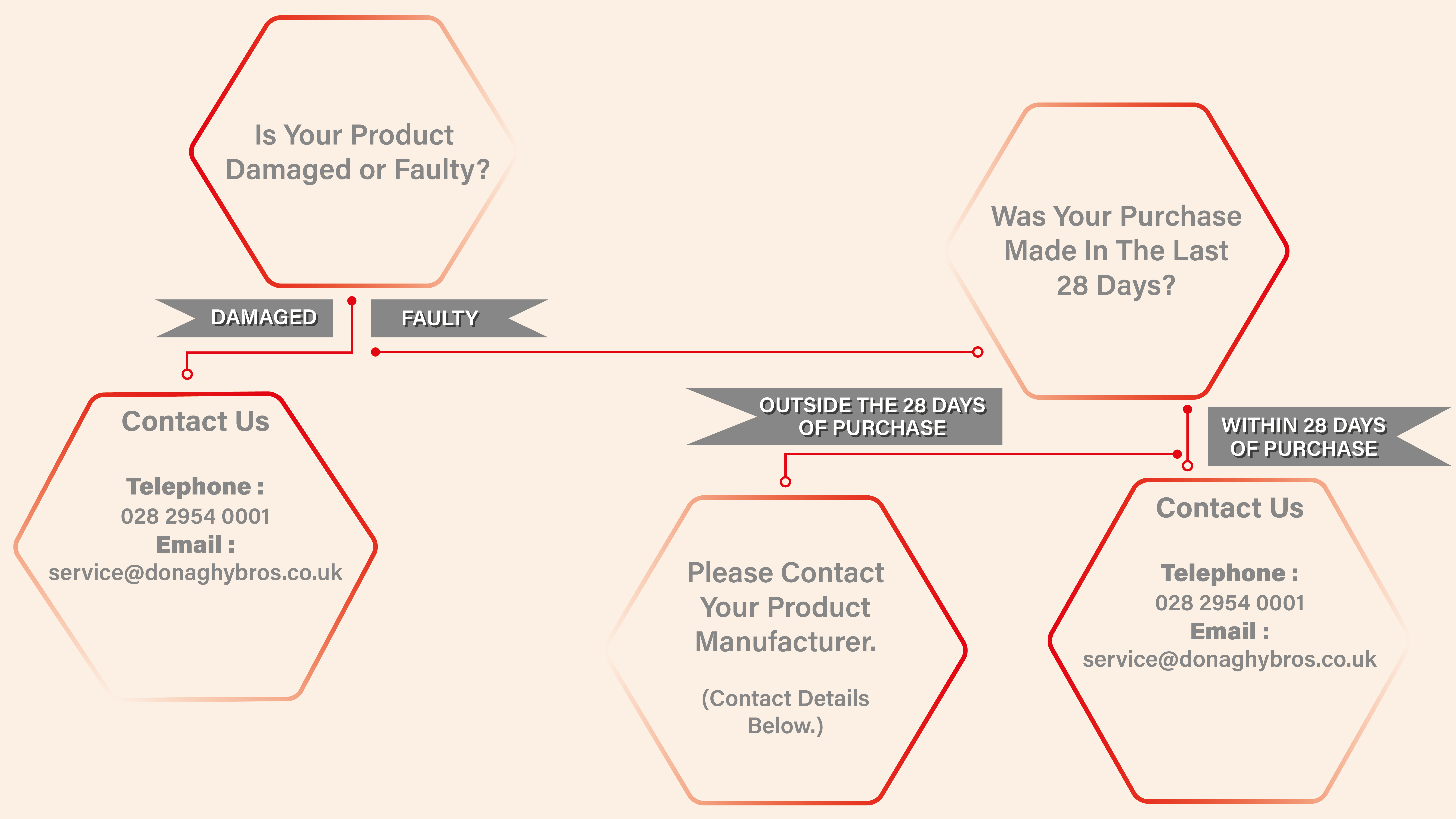 Find your manufacturer
---
---
UK: 03445 611 611
ROI: 0818 543 000
---
---
UK / NI : 01949 862012
ROI: 1 800 535556
---
---
---
UK: 03448153 746
NI / ROI: 00353 1842 4833
---
---
UK / NI: 0333 2079 710
ROI: 01862 3411
---
---
UK / NI: 0344 892 8979
ROI: 0145 02655
---
---
UK / NI: 03444 99 55 99
ROI: 0818 200021
---
UK / NI: 01949 862012
ROI: 1-800-535556
---
---
---
---
UK / NI: 0800 2980 298
ROI: 01475 7109
---
---
UK / NI: 03445 613 613
ROI: 0818 543 000
---
---
---
---
UK: 01252 351111
NI / ROI: Contact Us Directly
---
---
UK: 08000 886 605
NI / ROI: 00353 180 77 960
---
UK / NI: 0191 387 0804
ROI: 03301 289719
---
UK / NI: 0191 387 0804
ROI: 03301 289719
---
---
UK / NI: 03444 99 55 99
ROI: 0818 200021
---
---
UK / NI: 0344 822 4224
ROI: 0818 313 413
---
---
---
UK / NI: 01527 888133
ROI: 01527 888133
---
---
---
UK / NI: 0344 822 4224
ROI: 0818 313 413
---
UK / NI: 0800 304 7470
ROI: 01282 868 266
---
---
UK / NI: 00800 3810 4026
ROI: 00800 3810 4026
---
UK:03448153 737
NI / ROI: 00353 1842 4833
---
---
UK / NI: 0333 2079 710
ROI: 01862 3411
UK / NI: 0344 847 5454
ROI: 01 686 9454
UK / NI: 0333 0147 888
ROI: 0146 000 64
---
---
UK: 0330 160 6600
NI / ROI: 00353 144 99250
---
---
---
---
UK: 0845 600 3310
NI: 028-9023-5088
ROI: 01 413 6400
---
UK: 01926 457628
NI / ROI: 00353 5130 2333
---
---
UK / NI: 0808 1781650
ROI: 180 093 2369
---
---
UK / NI: 0333 0000 333
ROI: 0818 717 100
---
---
---
UK / NI: 0344 557 9907
ROI: 081 827 5751
---
---
UK: 03448153 740
NI / ROI: 00353 1842 4833
---
---
---
UK / NI: 0344 822 4224
ROI: 0818 313 413
---
---
UK / NI: 03445 612 612
ROI: 0818 543 000